What is a Nonprofit Management Degree?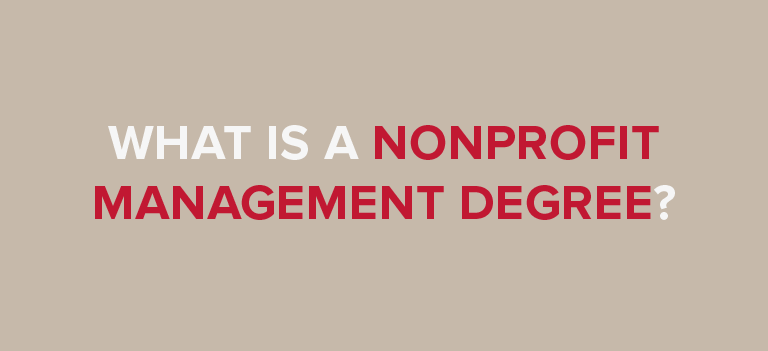 No money, no mission. This is a common refrain from nonprofit managers who struggle to find the balance between raising money and providing services. Both fundraising and mission delivery require considerable time, staff, and resources. Organizations can't drive their mission without the financial resources to do so. But they often can't raise funds without a track record of mission-related results. Welcome to the dynamic world of nonprofit management.
Those interested in nonprofit management careers must understand a basic premise: "Nonprofit" should not be confused with "no profit." In fact, most successful nonprofits keep a sharp eye on the bottom line. Larger organizations manage endowments, investment funds, and reserve funds, while looking for revenue growth opportunities as aggressively as their for-profit counterparts. The difference? While for-profit companies return earned income to shareholders and owners, nonprofits invest that money toward driving their mission. Effective nonprofit managers must be proficient in fundraising and mission-related skills. Earning a master's in nonprofit management can help young professionals acquire those skills.
The History of Nonprofit Management
Nonprofit organizations are ubiquitous. Think of virtually any cause or social issue and there is likely a nonprofit supporting its mission. They began as early as the mid-to-late 1700s, primarily as churches, orphanages, and libraries helping their local communities. These early organizations were largely driven by volunteer workers who collected private donations to help their cause. The Wilson-Gorman Tariff Act of 1894 first provided tax-exempt status to nonprofits. This opened the door for many other organizations to engage in social issues. Nonprofits started to become more structured, forming coalitions and member-based organizations, to drive their missions.
Nonprofit organizations experienced extraordinary growth in the 20th century. In 1900, nonprofit employees accounted for less than 1 percent of the U.S. labor force. That number grew to 3 percent by 1960, and 10 percent by 2000. Several factors helped shape this dramatic increase. First, a "Golden Age of Philanthropy" in the early 1900s, sparked by business giants like Andrew Carnegie, J.D. Rockefeller, and George Eastman, helped fund organizations that sought to help others. Next, the Great Depression during the 1930s plunged countless families into poverty, creating even greater need for services. Finally, the government created social safety nets and increased funding to nonprofit groups.
By 2012, more than 1.4 million nonprofits registered with the IRS, collecting more than $335 billion in revenue. Today, the government recognizes 29 types of organizations as nonprofits that qualify for tax-exempt status because of the contributions they make in the community. What does all this mean for students interested in a nonprofit master's program? Nonprofits are big business, and they're here to stay.
Trends in the industry
With so many nonprofits competing for dollars to support their worthy missions, nonprofit managers will need to ensure their organizations are well-positioned for funding and resources. Staying attuned to industry trends will help. Tax reform may prove to be the most significant policy impacting nonprofits in decades. But with no single plan gaining traction, it is difficult to tell whether tax reform will help or hurt the nonprofit industry. President Trump supports a cap on itemized deductions, which some analysts believe could result in a drop in charitable donations up to 9 percent, while House Speaker Paul Ryan promotes tax code changes that would encourage donations to nonprofits.
Technology is also impacting how people give. The NonProfit Times reports overall giving was down .8 percent for large charities this summer. But online giving rose 9.8 percent. More organizations are accepting payments through Facebook, Instagram, and Snapchat, exposing nonprofits to a new generation of donors. Technology also raises new mission-related opportunities. Nonprofits can use social media to raise awareness of their causes, strengthen their brand, and engage new volunteers.
The line between nonprofit and for-profit will continue to blur as charities look to professionals with business experience to help drive revenue and results. A more business-savvy approach will inevitably lead to data-driven business models for nonprofits. The Overhead Myth takes a results-based approach to evaluating nonprofits. Responsible stewardship of donor dollars is important, but not absent tangible results. Data-driven nonprofit managers will help their organizations achieve both.
Notable Organizations
Nonprofit management careers vary based on a number of factors, including the organization's size, mission, location, budget, and constituents. Managers are expected to ensure organizations deliver on their mission, which also vary across multiple verticals. EquiTrend has tracked and ranked nonprofit organizations for more than 25 years. It divides nonprofits into seven subgroups: animal welfare, disability, environmental, health, international aid, social service, and youth.
Pick any subgroup and you'll find many distinguished nonprofits recognized for their impact on mission. For example, health organizations like American Cancer Society and American Heart Association fund research and drive public policy that have drastically reduced mortality rates of cancer and heart disease the past several decades. As political turmoil creates refugee crises in different parts of the world, UNICEF has operations in 190 countries and territories fighting for the rights and welfare of children. The Humane Society of America and PETA fight for animals' rights.
Perhaps the most notable nonprofit, from a financial impact perspective, is United Way. United Way once again tops the list of largest charities, bringing in $3.7 billion dollars in revenue. The organization collects the large majority of its donations through workplace giving campaigns, and then distributes funds through more than 1,000 independent local United Way branches. The revenue model allows donors to make an impact on international or community nonprofits.
Common Challenges in the Nonprofit Sector
All nonprofits face similar challenges. Nearly half of nonprofits cite "finding the money to accomplish our mission" as their greatest concern. The second most significant challenge on the list is "getting the word out about us and what we do." Both these challenges speak to the same core issue: How do nonprofit organizations compete for market share of attention? Organizations must not only compete with other worthy causes, they must compete with everything else that occupies a potential volunteer's time and money.
Effective nonprofit managers must also find the balance between innovation and productivity. In other words, tight budgets and limited resources force managers to focus on achieving immediate goals that drive the mission. But, like their for-profit counterparts, nonprofits must always innovate to stay relevant and create new opportunities. Tactics like leveraging new social media platforms, or identifying a new strategic partner that can help connect you to more donors, require a commitment to innovate that nonprofits can't afford to ignore.
Who Makes a Great Nonprofit Manager?
Passion for a specific cause is a great start to a career in nonprofit management, but it isn't enough. Today, more than ever, nonprofit managers need a wide array of business and communications skills. They need to think strategically, lead teams, manage resources, recruit and motivate volunteers, and secure funding. Most of all, great nonprofit managers need to demonstrate an ability to drive toward results.
These 10 Traits of Effective Nonprofit Leaders also provide a good outline of the personal competencies required to be successful. Business and communications skills can be learned or acquired. But curiosity, energy, and gratitude are all "must haves."
What Steps Can You Take?
If you're considering a career in nonprofit management, learn more about the Social Enterprise Master's offered by IR Online, American University's International Relations online program. The program offers students an opportunity to earn a master's degree in nonprofit management online. Core courses in Global Social Entrepreneurship and Social Innovation introduce students to the world of possibilities and need in the nonprofit industry. Specialized courses like Marketing Management and Management of Organizations and Human Capital provide students with the management skills needed to be successful. Students can also experience hands-on learning through two in-person immersions. These real-world assignments will give students a jump start as they start their nonprofit careers.
There are many opportunities to make a positive change in the world. Acquiring the right skills can help you realize those opportunities.