What is a Master's in International Business?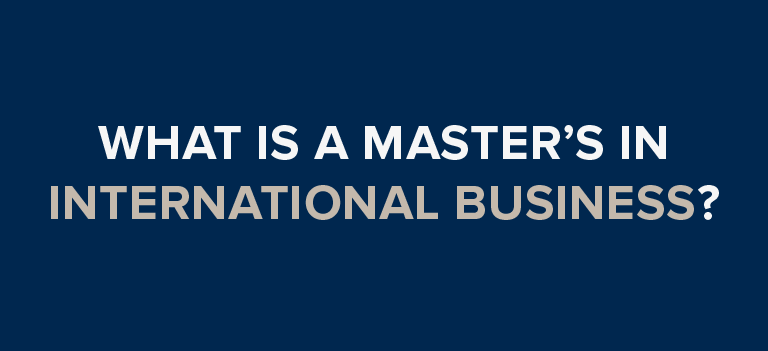 Pop quiz: Name the world's largest company by revenue. As you resist the urge to check Google, consider the following context. Three of the top five companies are in the energy sector. Four of the top five are based in Asia. But the world's largest company is neither. It was started by a man in Arkansas who likely never dreamed his company would one day employ 2.3 million workers worldwide and earn nearly $5 billion in annual global revenue.
Indeed, Walmart tops the list of largest companies by revenue, beating out other giants such as State Grid Corporation of China, Japan's Toyota Motor Corporation, and fellow American icon Apple Inc. The family-owned business is a preeminent example of the significance of international development. For students considering a career or master's in international business, Walmart is but one of many examples of how an international perspective can benefit tomorrow's business leaders.
Of course, few companies have the potential to reach the list of world's largest. But in today's global economy, many companies value employees with a background and understanding of international development. International business students often enter the job market with a treasure chest of coveted skills, including a knowledge of other cultures, understanding of international economics, and an ability to communicate and work with global customers.
These skills apply to a wide range of career opportunities in international business development. Banking, accounting, compliance and management consultant are all traditional careers enhanced by an international business degree. For those able to expand their vision of "international business," nontraditional careers also exist. Global organizations often employ cultural advisers in specific areas of business like media, law, technology and education. As the global economy becomes increasingly connected, prospective developmental studies students have much to consider.
Trends in the International Business Sector
The opportunity for growth in international business will likely remain strong for many years. Economists point to a number of trends organizations will hope to leverage with skilled employees
Growing Emerging Markets
The 10 fastest-growing economies in 2016 were all in Asia and Africa. Those nations still comprise a relatively smaller slice of the global economy compared to developed countries, but the potential for growth is difficult to ignore. Economic gains in developing nations have lifted many families from poverty to middle class. In 2010, roughly 25 percent of the global population was considered within the middle class. Economists project that number to grow to nearly 50 percent by 2020, and more than 60 percent by 2040. Millions more families will have more disposable income for which global business will compete.
Demographic Shifts
The number of Americans 65 and over is projected to double from 46 million today to more than 98 million by 2060. Global aging trends aren't far behind. Global life expectancy is expected to increase eight years, to 76.2, by the year 2050. Companies will look to understand how this global demographic shift impacts their business.
Companies across all verticals continue to develop new products and improve on existing ones. This creates two fields of opportunity: American companies will look to global audiences to market their innovations, and international companies driving innovation will look to gain a foothold in the U.S. market. In either case, companies would value workers with an understanding of international business.Innovation

Communication
Dramatic advances in internet access and technology have virtually removed geographic boundaries between consumers and products from around the world. These advances are also improving access to information for nongovernmental organizations (NGOs), nonprofits, and public-private ventures addressing global health, social, and environmental issues.
Increased Competition

As U.S. companies try to gain customers in developing nations, some have found resistance from local competitors. Local companies better understand customer preferences, which gives them a competitive edge U.S. companies must work to overcome. For example, when McDonald's couldn't compete in India's market of 1 billion people against local and regional restaurants, it learned to adapt by introducing its flagship Maharaja Mac of chicken and mutton to appeal to local customers.
The Importance of a Global Economy
McDonald's offers another lesson in the importance of a global economy as it relates to international foreign policy. In 1996, journalist Thomas Friedman introduced his "Golden Arches Theory of Conflict Prevention". Friedman argued no two countries that both have a McDonald's have ever fought a war against each other. He theorized that when a nation grows its middle class large enough to support the fast food chain, it is more inclined to sustain middle class growth than engage in war. In other words, international development leads to a thriving global economy that, in turn, leads to a more stable and prosperous world. Unfortunately, the theory no longer holds true as Russia annexed Crimea in 2014, though both have McDonald's.
Friedman later updated his theory, renaming it the "Dell Theory of Conflict Prevention," to argue no two countries part of the same global supply chain will ever go to war against each other. This theory will also be tested as global politics ebb and flow. Regardless of whether the theory survives, Friedman's underlying point is clear: International business is inextricably tied to international politics. World leaders will need to come together to address significant global challenges like climate change, terrorism, and health. Strong international business relationships will create a foundation of mutual trust and prosperity on which nations can stand together to address these issues. Of course, this is in addition to the direct benefit multinational companies provide by bringing goods and services to people around the world.
Challenges in International Work
Large organizations must understand political intricacies, and a minefield of other challenges, to be successful in international business. Legal, trade, and compliance issues all require a level of expertise companies must acquire before mapping out their international development strategy. Technology can also be as much a challenge as an opportunity. While technology increases access to international markets, not all developing nations are technologically compatible. Phone companies can't sell 4G phones in countries without a 4G network. Similarly, a web-based marketing strategy wouldn't apply in a country where the population doesn't use the internet as its primary information source.
Increasingly, smaller companies also find themselves challenged in a multicultural business environment. Even those that don't pursue international business are faced with international challenges at home as U.S. markets become more diverse. For example, businesses may face language barriers if their local communities are largely Hispanic, Chinese, or another fast-growing ethnic demographic. Organizations also need to be aware of cultural traditions their diverse communities may observe.
Benefits of a Global Perspective
As companies continue to target global customers, the demand for professionals with international business experience will continue to grow. That's great news for students graduating with a master's in international business who can leverage the degree toward any one of many career options. Projected job growth and salaries for careers in international business are both higher than average, making the degree an attractive investment.
Other potential benefits of a career in international business include the opportunity to learn a new language, work with people from other cultures, paid international travel and, in some cases, living overseas.
Starting a Career in International Business
If you're considering a degree in international business, learn more about the Social Enterprise Master's offered by IR online, American University's International Relations online program. The program helps candidates stand out with a two-pronged approach. First, students develop a strong foundation within specific disciplines like economics, finance or marketing. The master's programs offer courses for each of these specialties. For example:
Economics – Economic Theory, Managerial Economics, and International Economics
Finance – Financial Statement Analysis, Investment and Portfolio Analysis, and International Finance
Marketing – Brand Strategy, Integrated Marketing and Communication, and Marketing Management
Secondly, students gain knowledge of broader global skills that multinational organizations value, like international negotiation, intercultural communication, and social innovation.
Every day, countless new companies pop up around the world — many of them dreaming of becoming the next Walmart. We now know it takes much more than just a dream for companies to prosper in a global economy; it takes employees with the knowledge and skills to make those dreams a reality.