Defining Environmental Sustainability and Peacebuilding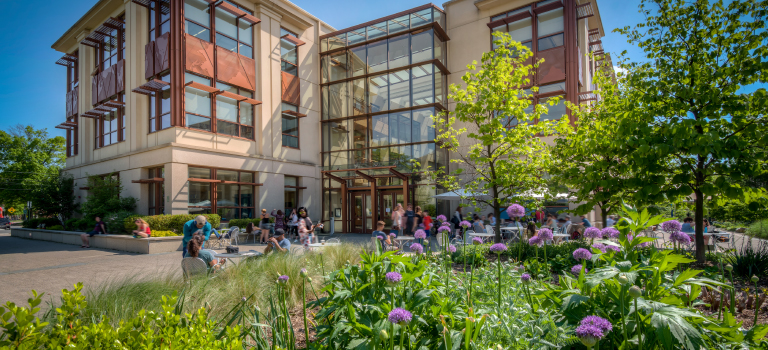 Displaced people, species extinction, soil erosion, and rising sea levels are just a few of the many environmental challenges facing our global community. These challenges have brought leading thinkers in the fields of environmental sustainability and international relations together to create peaceful, effective solutions to what is perhaps the greatest crisis of our time. At the School of International Service (SIS) at American University, faculty and students are generating creative solutions for environmental sustainability and environmental peacebuilding.
What is Environmental Sustainability?
Environmental sustainability is the state in which the demands we place on our environment align with the environment's capacity to help all people live successfully now and in the future. In 2005, the World Summit on Social Development defined environmental sustainability, social development, and economic development as the three pillars upon which global sustainability must stand. Achieving environmental sustainability requires renewable fuel sources, yielding sustainable food sources, and reducing carbon emissions. Because this must be a global effort, environmental sustainability depends on collaboration, drawing leaders and thinkers in the hard sciences but also in politics, economics, and many other fields.
Although environmental sustainability is a global goal, it also requires leadership and action on a local and organizational level. In addition to working on sustainability at a global scale, American University completed the steps to become the first carbon-neutral university in the United States. To achieve carbon neutrality, American University set and implemented a number of goals, such as installing solar panels on campus. Additionally, by partnering with neighboring universities to install solar panels in North Carolina, American University engineered a creative solution that allowed the school to become 100 percent renewable in terms of its electricity use on campus. The school also encourages students to reduce consumption on campus: Residence halls compete against each other to reduce waste, and faculty members receive assistance for incorporating sustainability into their classrooms.
The School of International Service at American University is a physical testament to the school's sustainability efforts. SIS is housed in a 70,000 square-foot LEED Gold certified building designed by renowned "green" architect William McDonough. Leadership in Energy and Environmental Design (LEED) certification is the world's most widely used rating system for green buildings. McDonough developed a building that supports key elements of human and environmental health, including water savings. The building features natural light, nontoxic materials, and climate controls that ensure indoor air quality. Through these features, the physical space of the school reflects the complex and creative thinking its faculty and students are doing about the future of environmental sustainability.
Environmental Sustainability and International Relations
In addition to being leaders in environmental sustainability, scholars at American University's School of International Service have challenged the way leaders around the globe think about national security and environmental sustainability. Policymakers have historically focused on how environmental challenges cause conflict and threaten security, but they are beginning to consider how environmental concerns can be a force for cooperation, with all parties benefiting.
This combined focus on environmental protection and sustainable peacebuilding is known as environmental peacebuilding, and it has been utilized across the globe in regions such as South and Central Asia, South Africa, and the Middle East, as well as along the U.S.-Mexico border. For example, the organization EcoPeace Middle East, run by Palestinians, Jordanians, and Israelis, seeks to promote peace as it addresses regional water issues and rehabilitates the Jordan River. The organization also creates "EcoParks" that bring together local youth to protect biodiversity in the Jordan River Valley.
SIS faculty members are among these leaders as they research, teach, and write about environmental peacebuilding and international policy for environmental sustainability. In 2018, Ken Conca also was awarded the Al-Moumin Award and Distinguished Lecture on Environmental Peacebuilding, which recognizes leaders in the field of environmental peacebuilding. In his lecture, he explained how environmental issues are uniquely suited to promote peace. For example, environmental issues reach across boundaries dictated by people and create a shared identity among groups that might differ in other ways. He also argued that because environmental problems are so complex, they challenge people to be forward thinking and generate solutions for an undefined future.
Conca has traveled around the world as an expert on global environmental governance, environmental peacebuilding, and United Nations environmental policy. In the summer, he leads a group of students to the Middle East to study environmental peacebuilding between Palestine and Israel. Conca is also a member of the United Nations Environment Program's Expert Advisory Group on Conflict and Peacebuilding, and he recently co-wrote a policy brief on the role of the UN Security Council on climate change––specifically, how vulnerable peoples displaced by climate change could influence international tensions.
Simon Nicholson, director of the Global Environmental Politics program in the School of International Service and assistant professor of international relations, is another leader in the field of environmental sustainability and international relations. His research and teaching focus on the politics of food and agriculture, global environmental and energy politics, the political and social implications of geoengineering, and emerging technologies. Nicholson is the editor of New Earth Politics: Essays from the Anthropocene, and Global Environmental Politics: From Person to Planet, and co-founder of the Forum for Climate Engineering Assessment at the School of International Service.
At AU's master's in international relations, Nicholson teaches "Sustainable Development and Global Environmental Politics," which introduces students to the sociopolitical dynamics of global environmental affairs. The course focuses on specific challenges such as climate change, food and agriculture issues, and the extinction of species.
"I teach this stuff in part because it's a great intellectual challenge," Nicholson says in the course introduction video. "As an academic, I get jazzed up thinking about big ideas and big questions. But I also spend time working on these issues because I firmly believe with lots of other people, that the environmental challenge is the great challenge of our age."
Citation for this content: American University's International Relations Online Degree