Teaching in the International Relations Online Program, a Q&A with James Goldgeier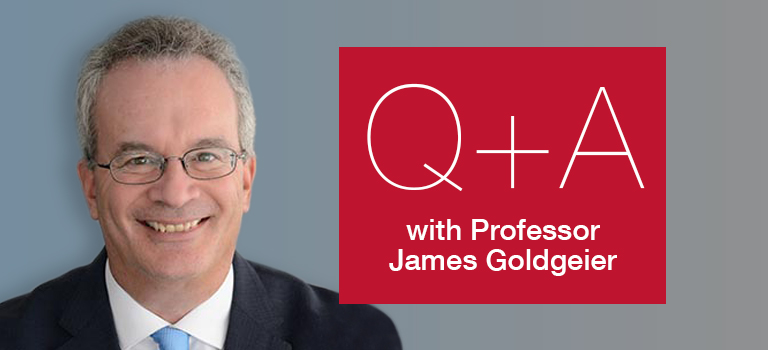 James Goldgeier has been teaching graduate courses on US foreign policy since the 1990s. The former dean of the School of International Service at American University, author, and current visiting senior fellow at the Council on Foreign Relations shares his experience teaching in the online program and discusses why international relations is such an exciting field.
What made you interested in teaching in the online program?
Well, I was the dean when we started the online program at the School of International Service back in 2013. When we decided to take the Master of International Service program online in 2015, I helped build part of the foundation course for that program, the proseminar. Once I stepped down from being dean and returned from my sabbatical this spring, I was eager to teach in the program and see how it really worked.
What topics does the proseminar cover?
The proseminar is a 15-week course that has three different sections. The first five weeks, which I built, look at theory and practice in international relations. We cover the major approaches to the study of international politics and how those shape issues like US-China relations or climate change. The next five weeks look at different international organizations like the UN, World Bank, and the International Monetary Fund, how those institutions work and their relationships with the United States. The last five weeks look at the way we should approach cross-cultural communication. As a foundation course for the program, the proseminar is designed to be comprehensive and to help students move into more specialized areas throughout the duration of the program.
What were some of your favorite class discussions this past semester?
The discussions were amazing—without doubt the best discussions I've ever had in a master's seminar, and I've been teaching master's classes since 1994. But the reason the discussions were so good is because the students came prepared, and because their different backgrounds and levels of expertise were so helpful in thinking about and talking about the topics. We had several students in different branches of the military, so they brought their experience. We had people who had been in different parts of the world working in international development, and we had people who had spent many years working in the private sector. Whenever we had a topic to discuss, their ability to put in the context of their own experiences and their ability to share them with each other and with me was very special.
What is your favorite topic to teach?
In general, the thing that I've taught over and over since the 1990s is US foreign policy. It has changed dramatically in the past 25 years. The US in the 1990s was in a very different place, especially vis-à-vis countries like Russia and China. Then we have things like Sept. 11, and the Iraq War, and the Obama years, and at the same time, the rise of countries like Russia and China. Now, talking about foreign policy is always interesting in the era of Donald Trump. What's neat about foreign policy is that you have some enduring issues, and then you have things that change due to international events.
What unique lens does SIS bring to the study of international relations?
There are no separate disciplinary departments. There is no political science or history department, for example. You have political scientists and historians and anthropologists and geographers and economists and sociologists all mixed together talking about international affairs from a variety of perspectives. It is a very international and diverse faculty, all bringing different perspectives. It exposes students to a much richer conversation.
What advice do you have for students who are considering the IR Online program? Or those students who have recently enrolled?
The beauty of the online program is that it provides you with this comprehensive degree in which you can also specialize in particular areas like foreign policy, international security, and international development. I think that it's a great way for students to get a foundation in a number of different issues so that they are prepared for work in international affairs. The opportunity to do this from anywhere in the world makes this incredibly exciting.
I think it's also really important early in the program to come to the on-campus immersions. In the one we had last weekend, I had the chance to meet four of my students in person. It was awesome. One was really tall, and I had no idea. The students really enjoyed getting to meet each other in person, too. The immersion really helps to make that connection.
One piece of advice I have is to make sure you come to graduation when you finish. It is a really awesome moment to have these students and their families on campus for graduation. They shouldn't miss that.
Why is this a great time to study international relations?
To me, the great thing about the field of international relations is that there is so much interesting work, no matter which sector of the economy you're really interested in. This kind of program really prepares people for work, whether they want to work for the government, a non-governmental organization, or the private sector. There are so many opportunities, not only to work in one of those three sectors, but also to move back and forth between them. If you're the type of person who likes to get out and about, international affairs is a really fun field.
Citation for this content: American University's International Relations Online Program